Posters
Promotional / photo posters
Using my Roland large-format printer, I can print posters up to 900mm wide and as tall as you like! I use the same synthetic paper used for pull-up banners – perfect for shop window displays, promotional material or for framing.   Here are some sample prices to give you an idea – these are one-off costs, please see the green panel for quantity discounts. Minimum order $50 + GST.
A2

$ 25

A1

$ 40

A0

$ 60

600 x 900mm

$ 55

900 x 1200mm

$ 60

900 x 1800mm

$ 70

900 x 2400mm

$ 120
Prices are subject to GST and do not include design / artwork
Poster rails
I supply aluminium poster rails in pairs (top and bottom). Discreetly hang your posters using fishing line and you have a beautiful floating display for your shop window.   Poster rail prices (per pair, including end caps):
600mm long

$ 24

900mm long

$ 36

1200mm long

$ 48
Prices are subject to GST
Aluminium snap-frames
Satin-finish anodised aluminium snap-frames come in all standard A-sizes – perfect for promos in pubs, clubs and tourist centres. Swap your poster over in seconds when your promo has ended.
A4

$ 40

A3

$ 50

A2

$ 75

A1

$ 95

A0

$ 140
Prices are subject to GST
Email me / place order
Please email any enquiries or orders to info@morningtonsigns.com.au – be sure to check your spam folder for a reply if you haven't heard back within 24hrs – thanks !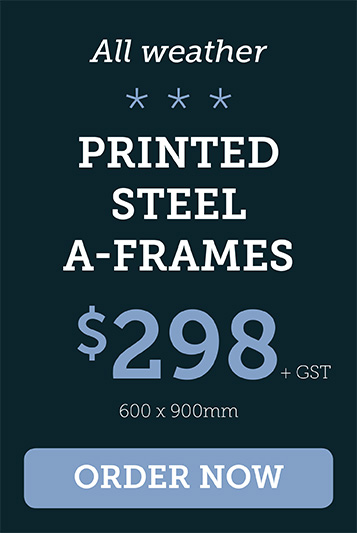 Helpful info
Tip
If you're hanging your posters in a shop window, try using fishing line fixed to the ceiling for a clean, uncomplicated look.
Discount for quantity
If you are ordering multiple prints at the same time (they don't have to be the same design), I offer a handsome discount for quantity:   6 – 10 posters – 10% off 11 – 20 posters – 20% off 21 – 30 posters – 30% off 31 – 40 posters – 40% off 51 + posters – 50% off