Pull-up banners
Retractable pull-up banners are eye-catching, relatively lightweight and portable. I only use the best print media money can buy; a tough, layered stay-flat media with a satin finish.
The print size is the same for each type – 850 x 2000mm.
The economy retractable cassette is made from anodised aluminium and has two fold-away feet for stability. The deluxe and double sided models have a heavier-duty, wider base with no fold-out feet – a lot less likely to get knocked over in high traffic areas.
All styles are supplied in a padded carry bag, ready to roll…
Options and prices
Economy

$ 188

Deluxe

$ 298

Double sided deluxe

$ 360
Prices are subject to GST and do not include design / artwork
Need design?
I can do that too, just send me the details and I'll send you an estimate :-)
Supplying your own artwork?
The printable area is 850 x 2000mm. No bleed is required on the sides, 10mm bleed is needed at the top and 50mm bleed at the bottom where the graphic goes into the cassette.
If your design has a white background, you should indicate the edges with a thin key-line – this is trimmed off prior to assembly.
All text should be converted to paths or embedded into the print file. Use the highest resolution images you can. If you are unsure if your artwork is print-ready and need me to check it, please allow an extra $25 + GST
Email me / place order
Please email me info@morningtonsigns.com.au or use this form to send me a message; I'll email you back within 24 hours. I'll only phone if you ask me to. Thanks :-)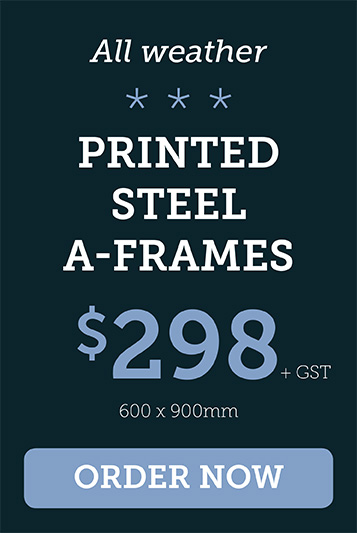 Helpful info
Indoor only
These pull-up banners are designed for indoor use only. If you need to use it outdoors, I'd recommend weighing down the base and don't try it on a windy day – it will blow away before you can say "order another pull-up banner from Mornington Signs, this one's in the next village."